Post-processing is an import thing when it's come to digital photography. It has become unavoidable in mostly all kind of Photography now. So It is important to edit your images to stand out of the crowd. But it is also very hard to choose the correct post processing software or app according to your type of work. Here this article will focus on Adobe Photoshop Lightroom which is one of the top photo editing software used by most of the professional photographers. You can Download free Lightroom presets for your Mobile at the end of this post.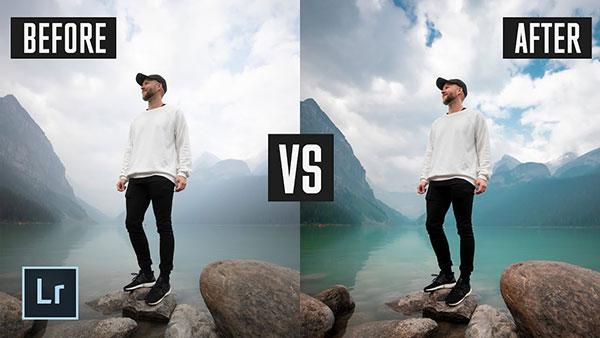 Introduction to Adobe Photoshop Lightroom
If you have a Question Like "what is Lightroom" and how it differs from adobe photoshop, Here you can get a brief answer. Adobe Lightroom is a family of image organization and image manipulation software developed by Adobe Systems for Windows, macOS, iOS, and Android It allows importing/saving, viewing, organizing, tagging, editing, and sharing large numbers of digital images.
Before you know more about Lightroom I'll give a small clarification of what is Adobe Photoshop. Photoshop is synonymous with photo editing. In the first place it was originally created by Adobe Systems for editing digital images in a minimum level. Later its functionality has expanded to an extraordinary level due to the innovations and inventions in software development sector. Consequently it has become a verb as well. To point out, people in the 21st century use "did you photoshop this image?" instead of did you edit this image?" ok Let's come to the point.
What does Lightroom do?
Adobe Photoshop Lightroom is a simple photo editing software. It does many complicated tasks as its features allow photographers to use it from start to finish of a post-process. So if you plan to make a photo album, Lightroom has that functionality. With all its tools and user-friendly interface, Lightroom lets one organize, post-process, print and share photographs. It should be noted that Light room's party piece is its focus on speed when working with multiple images: like a thousand images. This is made easier by the simple process of copying and pasting all of the adjustments that have done to the similar exposed photo on a set of photos. Another neat feature is non-destructive editing. It helps make sure original files remain intact and allows you to improve, set or cancel any adjustments at any time. Such sophistication makes it pretty special for photographers.
Adobe Lightroom Mobile
Adobe Lightroom Mobile is an essential mobile app for photographers and travelers who tends to create some amazing professional looking images by using their smartphone. Lightroom Mobile is available on both ios and Android which makes it easier for any kind of mobile user. Lightroom Mobile is an "easy to use app" in-depth, it lets you edit amazing photos for free. but you have to buy the premium if you need some premium features like Healing brush, Selective adjustments, Geometry tools, Raw editing on phone or tablet, People Photo sorting, Sensei search, Batch editing, Sync presets and profiles. Although the free version could do the amazing kinds of stuff.
What is Lightroom Preset
A Lightroom Preset is a predetermined position all (or some) of the sliders in Lightroom. In other words, Lightroom Presets is that they are already set as preset editing settings. When you're using Lightroom to edit your photographs, you can adjust the sliders–to change settings like color saturation, brightness, and contrast. If you get a particular combination of settings to your wish, you can then save that combination of settings as a preset– it is known as pre-set.
Download Free Karuvadgraphy Travel Lightroom Presets for Mobile
Spark your creativity and bring your photos to the next level! Beautiful Lightroom Presets are available for free download. Here some notable Lightroom Mobile Presets [.dng] are available for free download only for a limited time. If you love some cool beach vibes or dark adventure tones or just some moody looks, These preset could make your photos to crush Instagram feed!!
How to Import Lightroom Presets to Mobile
First Step: In order to get started go to the download location and Unzips of presets that you downloaded.
Second Step : Then Import the preset [.dng] files into the Lightroom app.
Third Step : Now Create and save your Presets.
Final Step: You have the presets now. Start editing awesome pics in one click
Need More Free Preset Pack? Join Our Mail List Now!!
Processing…
Success! You're on the list.
Whoops! There was an error and we couldn't process your subscription. Please reload the page and try again.
Are you Following Karuvadgraphy in Instagram?